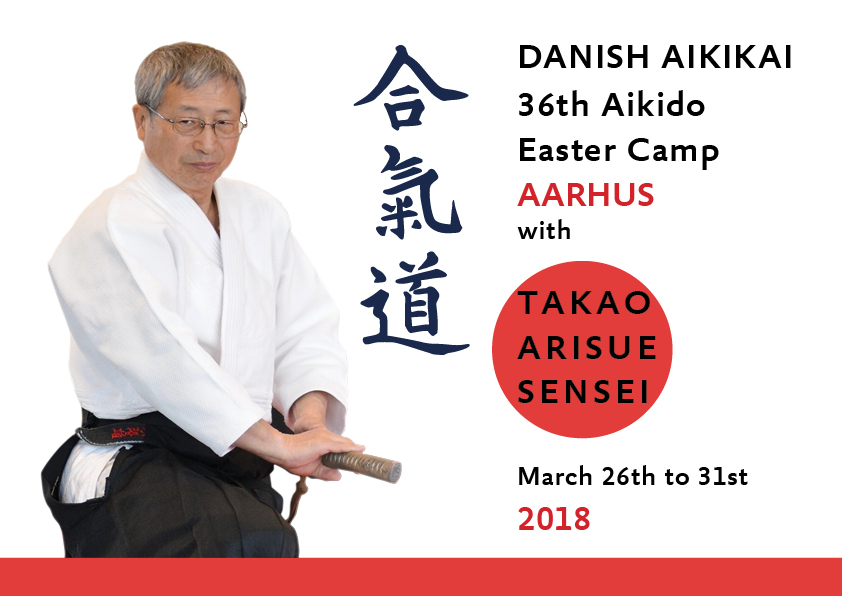 AIKIDO EASTER CAMP 2018 with TAKAO ARISUE Sensei
We are pleased to announce the 36th Aikido Easter Camp with Takao Arisue Sensei organized by Danish Aikikai. 
Aarhus Aikikai and Aarhus Shobukan Aikido invite you to beautiful Aarhus to train together for a week just before Easter 2018.
LOCATION
All camp facilities are located at
Ellekærskolen
Jernaldervej 5,
8210 Århus V,
Denmark
How to get there
If you are arriving at Aarhus by:
• airplane, take a bus to Aarhus, final stop - Aarhus railway station
• bus, walk up the street Ny Banegårdsgade to the railway station
• train, go out to Banegårdspladsen 
Go to the bus stop located on the corner Banegårdspladsen / Park Alle and take a bus 3A.
SCHEDULE
Dojo (school) opens at 7:30 Monday morning.
9:00 - 10:00 Aikido Toho
10:00 - 12:00 Aikido
16:00 - 18:00 Aikido
Saturday
9:00 - 10:00 Aikido Toho
10:00 - 12:00 Aikido
COST
DKK 300 per day
DKK 1200 all week
DKK 150 party
40 euro per day
160 euro all week
Der kan betales med MobilePay.
COST FOR CHILDREN AND YOUTH 
Children (up to and including 11 years of age): 
Full week: 425 DKK
One day: 125 DKK
Party: 100 DKK
Youth (from age 12 to and including age 17):
Full week: 650 DKK
One day: 175 DKK
Party 150 DKK
Sleeping at school is same as an adult: 35,- DKK pr. night, regardless of age.
GRADUATION
Kyu : Thursday 18:00
Dan : Friday 13.00
Aikido Toho Iai: Friday 14:00
ACCOMMODATION
Accommodation is 35 DKK / 5 euro per day and includes access to the kitchen.
Bring your own sleeping gear.
Follow Aikido Easter Camp on Facebook.